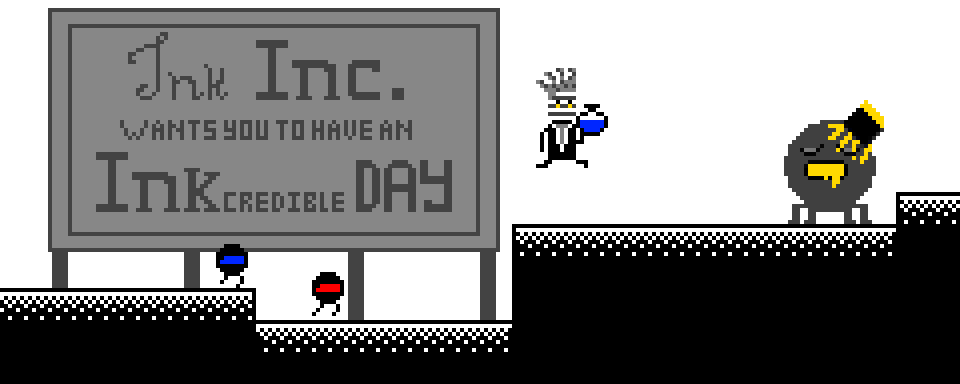 Ink Inc.
A downloadable game for Windows
---

In our world, we take color for granted--we know that the hues that bring life to everything around us will always be there.
What if that color weren't so guaranteed? What if someone could steal all the color for themselves, to try to get profit in the name of greed?
And what if, as you saw the world lose its color, little by little, you saw your friends, your family, your loved ones, your neighbors, your community--vanish without a trace?
What would you do?
---
Ink Inc. takes place in a world where ink flows freely--a natural resource needed for all living things, and the source of color in the world around them. You, an old, well-used paintbrush, are the leader of a cosmopolitan community who has started to notice that citizens have gone missing. You've heard the rumor that Ink Inc. has been gathering color by any means necessary--and you know that it's up to you to investigate.
Our game is a 2D platformer, made for fans of platformers of all ages. We aimed to create levels fun for even younger players to enjoy, while building a darker, more mature story for our older players. We hope you enjoy playing Ink Inc.!
---
This game was made by:
Anika Benons
Andrea Gaeta http://rea-foxfire.itch.io/

Eli Vazquez http://superpokeunicorn.itch.io/
Jack Virnich